Peanut Butter Chocolate Chip Cookies (Makes 16 cookies)
Image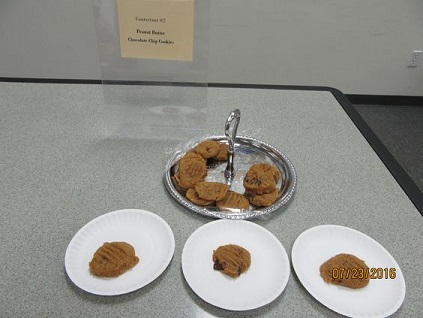 From:
www.oursimplehappylife.com
 (submitted by Genevieve M.)
INGREDIENTS:
1 can Garbanzo beans, rinsed and drained, or about 1 cup cooked beans
2 Tsp Vanilla
½ Cup + 2 Tbsp Peanut Butter
¼ Cup Honey
1 Tsp Baking Powder
¼ Cup Chocolate Chips

1) Preheat oven to 350◦ F.
2) Set chocolate chips aside and combine all other ingredients in a food processor.  Process until very smooth.  Scrape the top and sides to get the little chunks of beans and process again until they're combined.
3) Add the chocolate chips and combine.  The mixture will be very thick and sticky.
4) With wet hands, form into 1 ½" balls.
5) Place onto a piece of parchment paper.  If you want them to look more like normal cookies, press down slightly on the balls.  They don't rise at all during baking.
6) Bake for about 10-15 minutes.
Image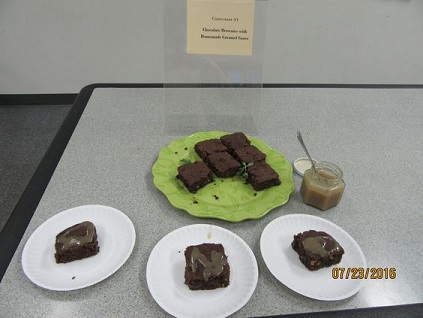 Chocolate Brownies with Homemade Caramel Sauce  (Gluten and dairy free) (submitted by Veronica M.)
BROWNIE:
1/3 Cup Coconut Flour
1/3 Cup Rice Flour
1 Cup Brown Sugar
1/3 Cup Baking Cocoa
½ Tsp Baking Powder
¼ Tsp Salt
¼ Cup Chopped Nuts
1/3 Cup Canola Oil
2 Eggs
1 Tsp. Vanilla
½ Cup Chocolate Chips
Combine flours, sugar, cocoa, baking powder, salt and nuts.  Set aside.
Combine oil, eggs, vanilla and chocolate chips.  Add to dry ingredients, but don't overmix.
Spread in a 9x9" baking pan.  Bake at 350◦ F for 20-25 minutes or until toothpick comes out clean.
CARAMEL SAUCE: (Makes about ½ cup)
1 Can (7 oz.) Coconut Milk
¼ Cup Maple Syrup
Pinch of Salt
1 ½ Tsp. Coconut Oil
1 Tsp Vanilla Extract
In a saucepan combine coconut milk, maple syrup and salt.
Bring to a boil over medium heat.  Reduce to low heat and simmer for 40 minutes, stirring occasionally.
Add coconut oil and cook another 5 minutes or until a deep caramel color.
Stir a little more often towards the end to keep the bottom from burning.
Remove from heat, add vanilla and pour the caramel into a bowl.  Let cool about 5 minutes.  Once mixture has cooled slightly, stir vigorously until smooth and glossy.  Store leftovers in the fridge and reheat in double-boiler.
Brown Sugar-Cinnamon Coconut Oil Cookies  (Makes 18 cookies) (submitted by Riley L.)
Image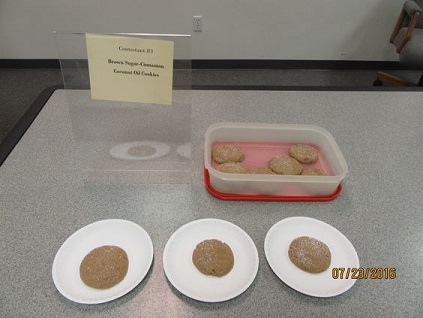 From
http://boysahoy.com/
INGREDIENTS:
1 ½ Cups Flour
¾ Tsp Baking Powder
½ Tsp Baking Soda
1 ½ Tsp Cinnamon
Pinch of Salt
½ Cup Coconut Oil
½ Cup Brown Sugar
½ Cup Stevia
1 Large Egg
1 ½ Tsp Vanilla Extract
1) Preheat oven to 350◦ F.
2) In a medium bowl combine flour, baking powder, baking soda, cinnamon and salt.
3) In the bowl of a stand mixer, beat coconut oil and brown sugar together until fluffy.  Beat in egg and vanilla extract.  Slow mix dry ingredients into wet ingredients.
4) Using a cookie scooper or spoon, scoop dough onto baking sheets lined with parchment.  Bake at 350◦ F for 9-11 minutes.  Remove and let cool for a few minutes before transferring to a cooking rack to finish cooling.  Do not overcook (you don't want edges to start to brown).
Image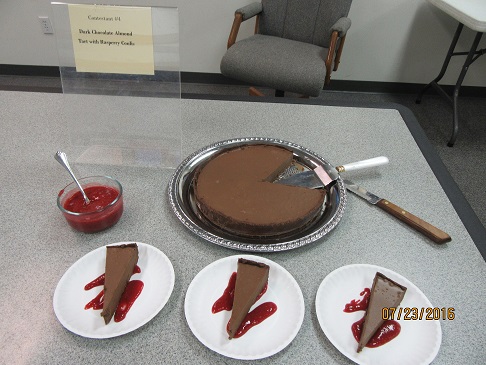 Dark Chocolate Almond Tart with Raspberry Coulis  (Makes one 9" tart – serves 14) (submitted by Melodee M.)
CRUST:
1 Cup Almond Flour
½ Cup Rice Flour
¼ Cup Cocoa Powder
6 Dates
¼ Cup Coconut Oil
¼ Tsp. Sea Salt
2 Tbsp. Maple Syrup
Combine all ingredients in a food processor.  Process 60 seconds until mixture sticks together when pinched.  Press evenly into the bottom and sides of a greased 9" Springform pan.  Refrigerate 10-15 minutes.
FILLING:
12 Dates, pitted and diced
¾ Cup Water
1 Cup Coconut Oil
1 Cup Full-fat (canned) Coconut Milk
1 Cup Cocoa Powder
1 ½ Tsp. Vanilla Extract
1 ½ Tsp. Almond Extract
2 Tbsp. Maple Syrup
Place dates and water into blender.  Let soak for 10 minutes.  Blend on high speed for 1-2 minutes until mixture is very smooth.
In food processor combine coconut oil, coconut milk, date paste, cocoa, extracts and maple syrup.  Process for 1-2 minutes until the mixture is very smooth – like a thick pudding.  Pour mixture into chilled crust and smooth with an offset spatula.  Chill at least 3 hours before slicing and serving. Serve with coulis.  Keep refrigerated.
RASPBERRY COULIS:
1 Cup Fresh Raspberries
¼ Cup Water
1 Tbsp. Honey
Combine ingredients in small saucepan and bring to a boil.  Reduce heat and simmer 8 minutes or until thickened.  Remove from heat.  Cool completely.  Process in blender until smooth.  Press through sieve to remove seeds.  Store in refrigerator.