Vegetable Lentil Soup with Cilantro
Makes 4 Servings
Nutrients per Serving: Calories 182, Total Fat 3g, Saturated Fat 1g, Protein 11g, Carbohydrates 29g, Cholesterol 0mg, Dietary Fiber 13g, Sodium 466mg
Dietary Exchange: 2 Bread/Starch, 1 Meat
Ingredients:
Nonstick cooking spray
2 medium carrots, thinly sliced
½ cup chopped onion
4 cups water
¾ cup dried lentils, rinsed and sorted
2 teaspoons chicken bouillon (or vegetarian chicken-flavored bouillon)
½ teaspoon ground cumin
1/8 teaspoon ground red pepper
1 medium tomato, seeded and diced
½ cup chopped roasted red bell peppers
2 teaspoons olive oil
¼ teaspoon salt (optional)
2 tablespoons chopped fresh cilantro (optional)
Directions:
Heat large saucepan or Dutch oven over medium-high heat; spray with cooking spray.  Add carrots and onion; cook and stir 4 minutes or until onion is translucent.
Add water, lentils, bouillon, cumin, and red pepper.  Bring to a boil over high heat.  Reduce heat; cover and simmer 45 minutes or until lentils are very tender.
Remove from heat; stir in tomato, peppers, oil and salt, if desired.  Cover and let stand 5 minutes before serving.
Take note! This soup keeps well and is even more flavorful the next day.
To make this dish gluten free, be sure to read ingredient labels carefully and purchase gluten-free chicken bouillon cubes.
Recipe from: diabetesselfmanagement.com
Indian Dal (Lentil Soup)
Serves 4-6
This simple to make soup can be varied by changing the spices to what you like and leaving out what you don't.  You can add coconut, coconut milk or coconut water to this for a richer dish.
6 minutes high pressure; natural release
Ingredients:
1 tablespoon oil
2 teaspoons mustard seeds
2 teaspoons cumin seeds
1 hot pepper, seeded and diced (or a pinch of red pepper flakes)
2 cloves garlic, minces
1 tablespoon finely minced ginger
1 teaspoon turmeric
½ teaspoon ground cinnamon
1/8 teaspoon ground black pepper
5 cups stock or water
1 ½ cups red lentils
1 large apple, peeled, cored and cut into small dice
Salt to taste
½ cup minced cilantro or parsley
Directions:
Heat the oil in the cooker and add the mustard and cumin seeds until they begin to pop, about 10 seconds.  Stir in the hot pepper, garlic and ginger and stir another 20 seconds.  Add the ground spices and stir another 10 seconds.  Add the water, lentils and apples.
Lock the lid on the cooker.  Over high heat bring to high pressure.  Reduce the heat to maintain high pressure and cook for 6 minutes.  Allow the pressure to come down naturally.  Remove the lid, tilting it away from you.
Stir well and add salt and cilantro or parsley.  If the soup is too thick, add boiling water or vegetable broth.
Submitted by Carolyn Shaffer
Image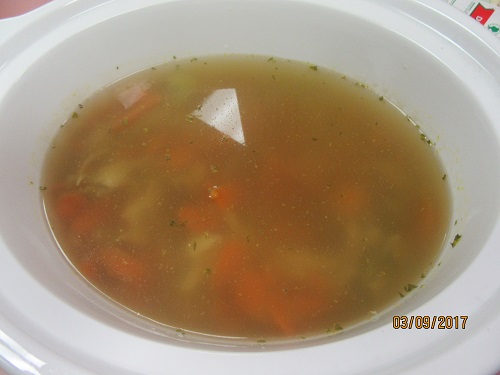 Homemade Chicken Noodle Soup
Ingredients:
Water
3-4 boneless, skinless chicken breasts
2-3 regular chicken bouillon cubes
2 packets Herbox sodium free chicken bouillon packets
16-24 oz. of Swanson reduced sodium chicken broth
16-24 oz. of Swanson chicken broth
Parsley flakes
Pepper
2-3 bay leaves
Sliced carrots
Sliced celery
12 oz. bag Amish Kitchen Home Style wide egg noodles
Directions:
Cook chicken in a large pot of water (fill large pot about half full of water) on medium temperature for about 1 hour or until chicken is fully cooked.  Skim fat off the top with a skimmer as it cooks.  Once chicken is fully cooked, cut chicken up into small pieces and put back into pot of water.
Add two regular chicken bouillon cubes, two packets of Herbox sodium free chicken bouillon packets, Swanson reduced sodium chicken broth and Swanson regular chicken broth. Adjust amount of each broth added to accommodate your taste preference and amount of soup you want to make.
Add some parsley, a little pepper, and a few bay leaves.  Add sliced carrots and celery. Cook at least one more hour.  About 15-20 minutes before eaten, add a little over half of a 12 oz. bag of noodles.  (If you like a lot of noodles you can add the whole bag).  Continue cooking soup until the noodles are cooked. Enjoy!
Recipe by Michelle Zander
Cuban Black Bean and Sweet Potato Soup
Serves 4-6
Ingredients:
2 tablespoons olive oil
1 medium onion, diced
1 cup diced celery
1 cup diced carrots
1 cup chopped tomatoes
1 cup dried black beans
6 cups water
1 medium sweet potato, peeled and cut into ½ inch cubes
1 medium green bell pepper, seeded and diced
2 teaspoons ground cumin
1 bay leaf
1 teaspoon dried Mexican oregano
1 teaspoon ground cinnamon
3 cloves garlic
Pinch of chili flakes
Salt
2 jalapeño chilies, seeded and thinly sliced
½ avocado, diced
Directions:
In a large sauté pan, heat the olive oil over medium heat and sauté the onion for about 10 minutes, or until lightly browned.  Add celery and carrots and cook 2 minutes longer.
Transfer the mixture to a 7 quart slow cooker and add the tomatoes, black beans, and water.  Cover and cook on LOW for about 6 hours.
Cuban culinary traditions reflect the Spanish, African, and Caribbean roots of the island's population.  Beans and rice, as in most Spanish-rooted cultures, are popular.  And in Cuba, some kind of root vegetable is often added to the meal.  Traditionally, this colorful, hearty soup can be made with pork bones or mean, but the same soup without the oinker is cheaper and even more true to its ingredient flavors and colors.  This recipe yields a very thick soup, so add water if you'd like a thinner version.  If you're pressed for time, you could put all the ingredients in at one time, but adding the sweet potato after the beans are mostly cooked helps to preserve its texture and color.
Recipe from: 50 Simple Soups for the Slow Cooker
Image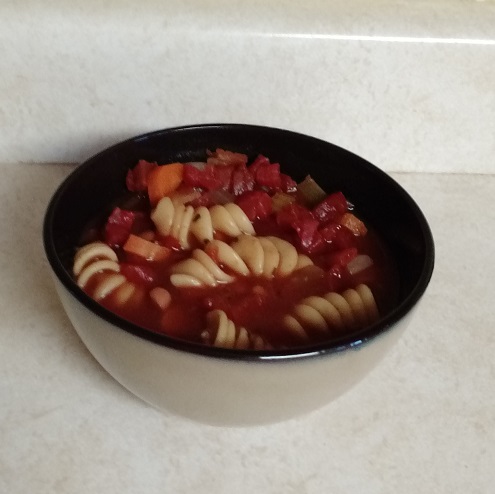 Vegetable Minestrone
Makes 12 servings
Prep: 15 minutes         Cook: 8 hours + 20 minutes
Nutrients per Serving: Calories 105, Calories from Fat 10, Total Fat 1g, Saturated Fat 2g, Carbohydrates 21g, Cholesterol 0mg, Dietary Fiber 2g, Sodium 940mg, Protein 5g
% Daily Value: Vitamin A 24%; Vitamin C 22%; Calcium 4%; Iron 10%
Dietary Exchanges: 1 Starch, 1 Vegetable
Ingredients:
4 cups vegetable or chicken broth
4 cups tomato juice
1 tablespoon dried basil leaves
1 teaspoon salt
½ teaspoon dried oregano leaves
¼ teaspoon pepper
2 medium carrots, sliced (1 cup)
2 medium stalks celery, chopped (1 cup)
1 medium onion, chopped (1/2 cup)
1 cup sliced mushrooms
2 cloves garlic, finely chopped
1 can (28 oz.) diced tomatoes, undrained
1 ½ cups uncooked rotini pasta (4 ½ oz.)
Shredded Parmesan cheese, if desired
Directions:
Mix all ingredients except pasta and cheese in 4 to 5 inch quart slow cooker.
Cover and cook on low heat setting 7 to 8 hours or until vegetables are tender.
Stir in pasta. Cover and cook on high heat setting 15 to 20 minutes or until pasta is tender.  Sprinkle each serving with cheese.
Substitution: Kids will love the little corkscrew rotini pasta in this vegetable-packed soup, but any small pasta works just as well.
Serve With: Minestrone means "big soup," and this big soup needs only thick slices of a whole-grain bread to make a big meal.
Recipe from: Weeknight One-Dish Dinners