Image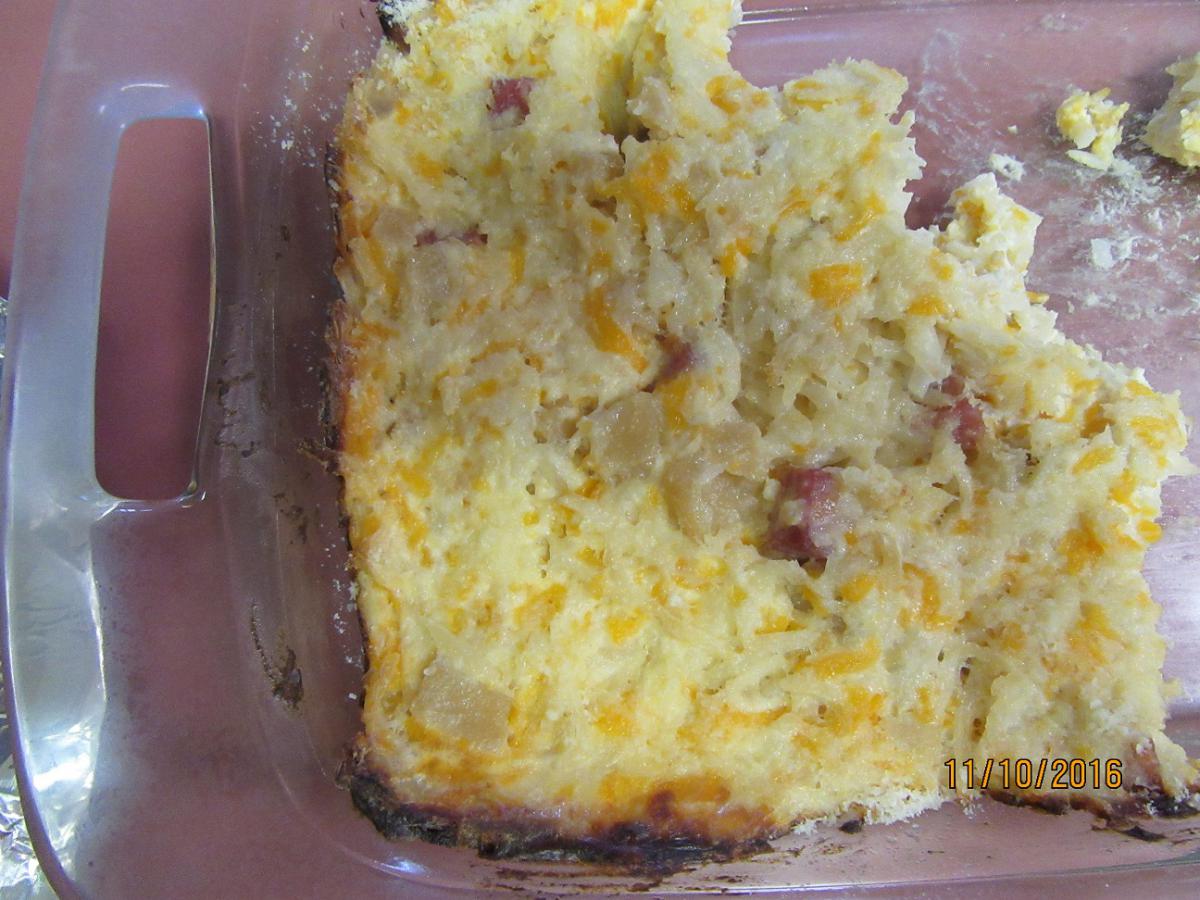 Cheesy Ham and Hash Brown Casserole
Recipe By: POOBOO
"I mostly use this as a breakfast casserole, but it's great anytime. May be served with or without diced ham. Quick and easy to make, not to mention delicious!
Prep Time: 15 min
Cook Time: 1 hour
Ready In: 1 hour 15 min
Ingredients:
                1 (32 ounce) package frozen hash brown potatoes
8 ounces cooked, diced ham
2 (10.75 ounce) cans condensed cream of potato soup
1 (16 ounce) container sour cream
2 cups shredded sharp Cheddar cheese
1 ½ cups grated Parmesan cheese
Directions:
Preheat oven to 375 degrees F (190 degrees C)  
Lightly grease 9x13 inch baking dish 
In large bowl, mix hash browns, ham, cream of potato soup, sour cream, Cheddar cheese. Spread evenly into prepared dish 
Sprinkle with Parmesan cheese 
Bake 1 hour in preheated oven, or until bubbly and lightly brown. Serve immediately.
Rice, Zucchini and Corn Casserole

Image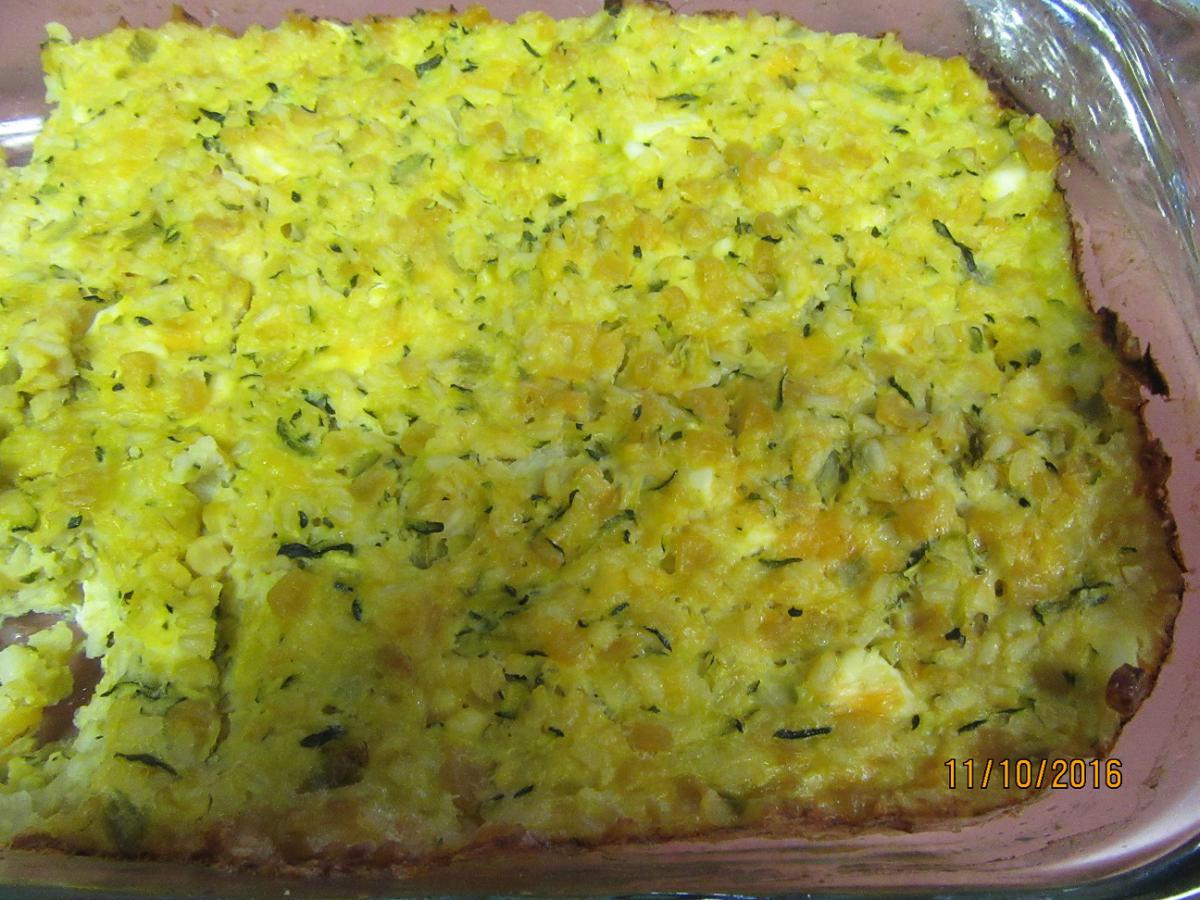 Makes 8 servings
Prep Time: 15 min
Cooking Time: 1 hr
Ingredients:
                2 teaspoons canola oil
                1 pound grated zucchini
                ½ cup chopped onion
                2 eggs
                2 egg whites
                3 cups cooked brown rice
                1 (7 ounce) can rinsed corn
                2 (4 ounce) cans drained chopped green chilies
                2 cups shredded 50 percent reduced-fat Cheddar cheese
                4 ounces crumbled queso fresco or reduced-fat feta  cheese
Directions:
Heat oven to 375 degrees F.
Heat oil in large nonstick skillet on medium heat until hot. Add
zucchini and onion; cook, stirring often, for 5 minutes or until zucchini is softened.
Remove from heat; set aside.
In a large bowl, beat eggs and egg whites with a fork; stir in cooked rice, corn, chilies, cheeses and zucchini mixture. Mix well.
Pour into 9x13 inch baking dish coated with cooking spray. Bake 45 to 50 minutes or until knife inserted in center comes out clean.
Nutrition Info: Per serving: 241 calories, 15 grams protein, 9 grams fat (32% calories from fat), 4.4 grams saturated fat, 27 grams carbohydrate, 73 milligrams cholesterol, 392 milligrams sodium, 4 grams fiber
Tuna Noodle Casserole (no picture)
Love it or hate it, the tuna noodle casserole is an American classic. This dish and the renowned green bean casserole are the two most asked about casseroles that are not currently on our menu. Why, you ask? We deliver our products frozen, and neither of these dishes freezes well. They're best when enjoyed fresh from the oven. With that said--and after the umpteenth request for this old-school favorite—we pay our respects here.
Makes 8 servings
Ingredients:
                2 tablespoons unsalted butter
                1 cup seasoned bread crumbs
                1 (10 ounce) container sliced button mushrooms
                1 medium onion, chopped
                1 ½ teaspoons paprika
                1 1/8 teaspoon salt, plus more for taste
                3 ½ cups chicken broth
                1 cup heavy cream
                1 (8 ounce) package wide egg noodles
                2 (6 ounce) cans water-packaged solid white tuna, drained well and flaked
                1 ½ cups frozen peas
                2 cups grated Parmesan cheese (8 ounces)
                2 tablespoons finely chopped fresh parsley leaves
                Freshly ground black pepper
Directions:
Preheat the oven to 475 degrees F
Melt 1 tbsp of butter in a large nonstick skillet set over medium-high heat. Add the bread crumbs and toast until just golden brown, 3 to 5 minutes. Transfer the crumbs to a small bowl and set aside.
Melt the remaining 1 tbsp of butter in a medium sauté pan set over medium-high heat. Add the mushrooms, onion, paprika, cayenne, and ½ tspn salt and cook, stirring often, until the mushrooms and onion are golden brown, about 8 minutes. Stir in the broth and cream, and then add the noodles. Increase the heat to high and cook at a vigorous simmer, stirring often, until the noodles are nearly tender and the sauce is slightly thickened, about 8 minutes.
Remove the pan from the heat and stir in the tuna, peas, Parmesan, and parsley, and season to taste with salt and pepper. Pour the mixture into a 9x13-inch casserole dish and sprinkle the bread crumbs over the top. Bake until the edges are bubbly, about 8 minutes.
Cajun Cornbread Casserole (no picture)
Any excuse to eat cornbread at dinner is a good one in my book. This delicious and spicy cornbread-topped casserole is a complete meal with grains, beans, and vegetables all in one dish. Serve with hot sauce, such as Tabasco, on the table.
Serves:  4
Chef's Note: Any bell pepper will work here, but green bell peppers are more authentic.
Ingredients:
                1 15-oz can diced tomatoes, undrained
                1 small onion, diced
                2 celery stalks, minced
                3 garlic cloves, minced
                1 bell pepper, seeded and diced
                2 tbsp Cajun Seasoning
                1 15-oz can kidney beans, drained and rinsed
                1 cup cornmeal
                1 ½ tsp baking powder
                Pinch of salt
                1 to 2 tbsp raw sugar (optional)
                ¾ cup nondairy milk
                ¼ cup unsweetened applesauce
Directions:
Preheat oven to 400 degrees F. Grease an 8 or 9-inch square baking pan or casserole dish. 
Drain tomato juices into a skillet and chop tomatoes into smaller pieces; set aside.Add water as necessary until a thin layer of liquid covers the skillet. 
Saute onion, celery, garlic, and bell pepper over high heat until onion is translucent, bell pepper slices are tender, and all of the water has evaporated, about 4 minutes. 
Turn off heat and mix in 1 to 2 tbsp of Cajun Seasoning, tomatoes, and kidney beans, stirring to combine, and set aside. 
In a small mixing bowl, whisk cornmeal, baking powder, salt, and additional Cajun Seasoning if desired (several dashes so the cornmeal looks speckled when stirred). You can also add 1 to 2 tablespoons of sugar for a sweet cornbread topping. Then stir in nondairy milk and applesauce. It should be thick, but spreadable like hummus, not dry. Pour bean mixture into your baking dish and pat down firmly with a spatula. Spread cornbread mixture on top and bake for 30 to 35 minutes, or until the cornbread is a deep golden, cracked and firm to the touch. Let set out for 15 minutes before serving.