Cranberry-Hazelnut Bread
Image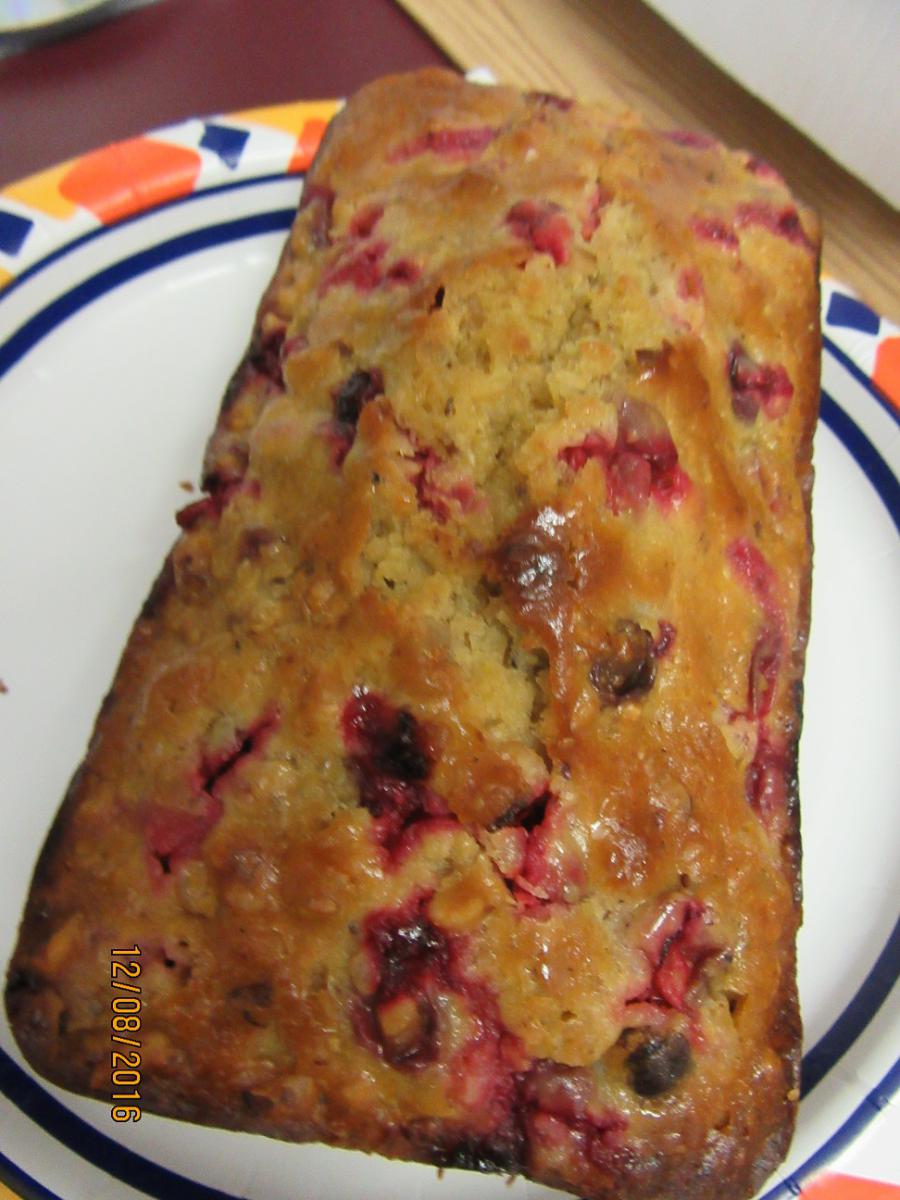 Hands-on time: 20 minutes
Total Time: 2 ½ hours (includes cooling)
Serves 8
Ingredients:
1 cup hazelnuts
2 tablespoons unsalted butter, melted, plus more for the pan
1 ½ cups all-purpose flour, spooned and level
1/3 cup granulated sugar
¼ cup packed light brown sugar
1 tablespoon baking powder
½ teaspoon kosher salt
½ cup whole milk
2 large eggs
1 tablespoon finely grated orange zest
½ teaspoon pure vanilla extract
1 ½ cups fresh or frozen cranberries
Directions:
Heat oven to 350 degrees F. Spread the hazelnuts on a large rimmed baking sheet and toast in oven, tossing occasionally, until fragrant, 10 to 12 minutes. Rub the warm nuts in a clean dish towel to remove the skins (discard the skins); coarsely chop.
Butter an 8 ½  -by-4 ½ inch loaf pan. In a medium bowl, whisk together the flour, sugars, baking powder, and salt. In a small bowl, whisk together the butter, milk, eggs, orange zest, and mix until just combined (do not over-mix). Fold in the hazelnuts and cranberries.
Transfer the batter to the prepared pan and bake until a toothpick inserted in the center comes out clean, 55 to 605 minutes (tent with foil if the top browns too quickly). Cool in the pan for 30 minutes, then transfer to a wire rack to cool completely.
TO MAKE AHEAD: The bread can be made up to 3 days in advance; keep at room temperature, tightly wrapped. If desired, warm in a 365 degree F oven for 5 to 10 minutes before serving.
From November 2011, Real Simple realsimple.com
Fruitcake Bars

Image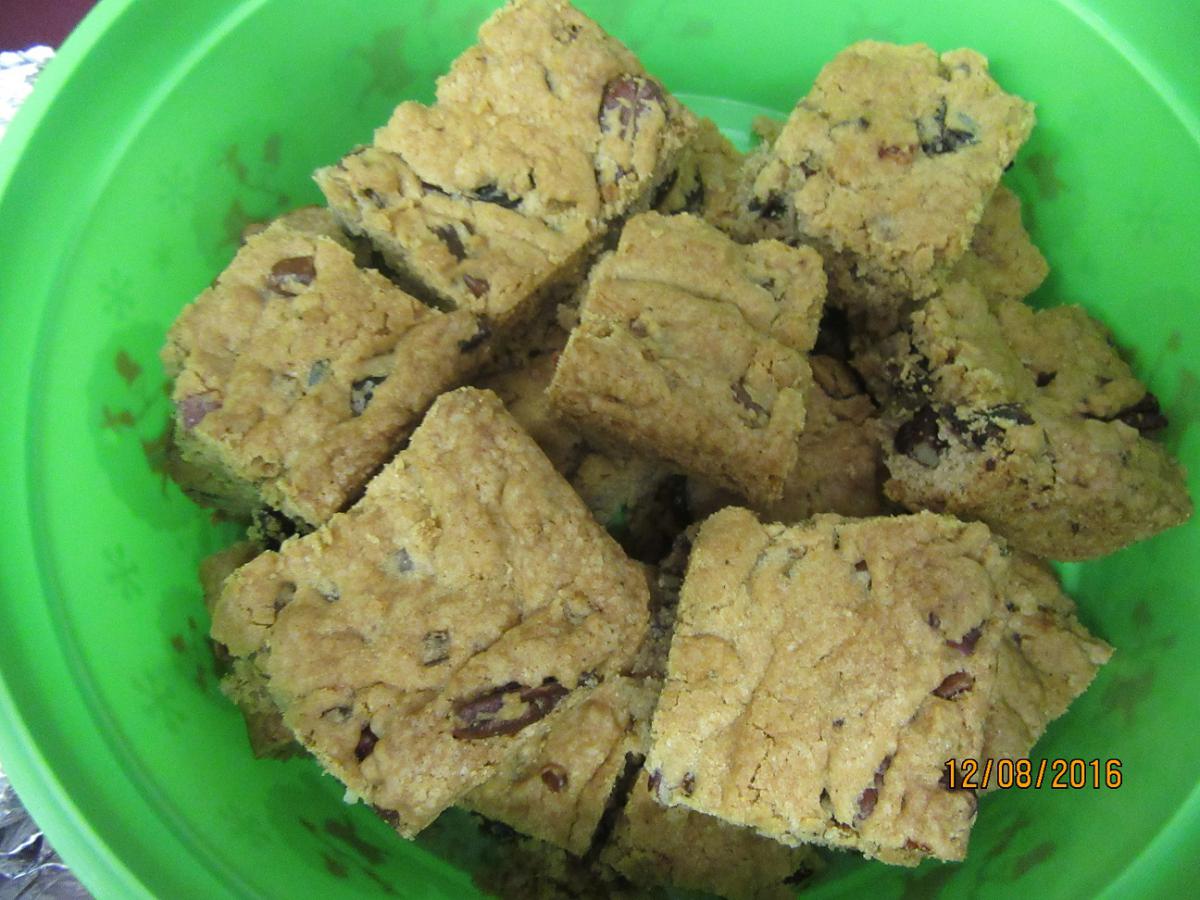 Loaded with dried fruits and roasted nuts, these bars are chock-full of tasty goodness.
Hands-on time: 10 minutes
Total time: 1 hour 35 minutes
Makes 20 bars
Ingredients:
Cooking spray
1 (16.5-ounce) package refrigerated sugar cookie dough
2 tablespoons all-purpose flour
2 tablespoons bourbon or brandy
¼ teaspoon ground cinnamon
1/8 teaspoon ground allspice
1/8 teaspoon ground nutmeg
½ cup chopped pecans
½ cup chopped pitted dates
½ cup chopped mix candied fruit
Directions:
Preheat oven to 350 degrees F. Coat the bottom and sides of a 9-inch square pan with cooking spray. Break up the cookie dough into a medium bowl. Stir in the flour, bourbon, cinnamon, allspice, and nutmeg until well blended. Stir in the pecans, dates, and candied fruit. Press into the prepared pan.
Bake at 350 degrees F for 25 minutes or until golden brown. Cool completely in the pan on a wire rack (about 1 hour). Cut into 5 rows by 4 rows.
Ingredient Swap: Bourbon or brandy lend traditional fruitcake flavor to these bars. If you prefer to leave it out, substitute 1 teaspoon brandy extract, and omit the flour.
Andes Candy Cookie
Ingredients:
¾ cup margarine
1 ½ cup brown sugar
2 tblsp. water
12 oz. pkg chocolate chips
2 eggs
1 ½ cups flour
1 ¼ tsp baking soda
½ tsp salt
3 boxes Andes mints
Directions:
Melt margarine, sugar, and water. Add chips. Stir until melted over low heat, remove. Pour into bowl and cool 10 minutes.
At high speed, add eggs, one at a time. At low speed, beat in remaining ingredients until blended. Chill one hour or more.
Roll into 1 inch balls. Bake 10 minutes-no longer-in 325 degree oven. Remove from oven and put mint on-swirl with spoon until melted. (Leave on baking pan until mint is totally melted and swirled-then remove from pan to finish cooling).
Makes 55-60 cookies
Can also use Andes Cherry Jubilee Thins or Andes Peppermint Thins
Submitted by Michelle Zander
Image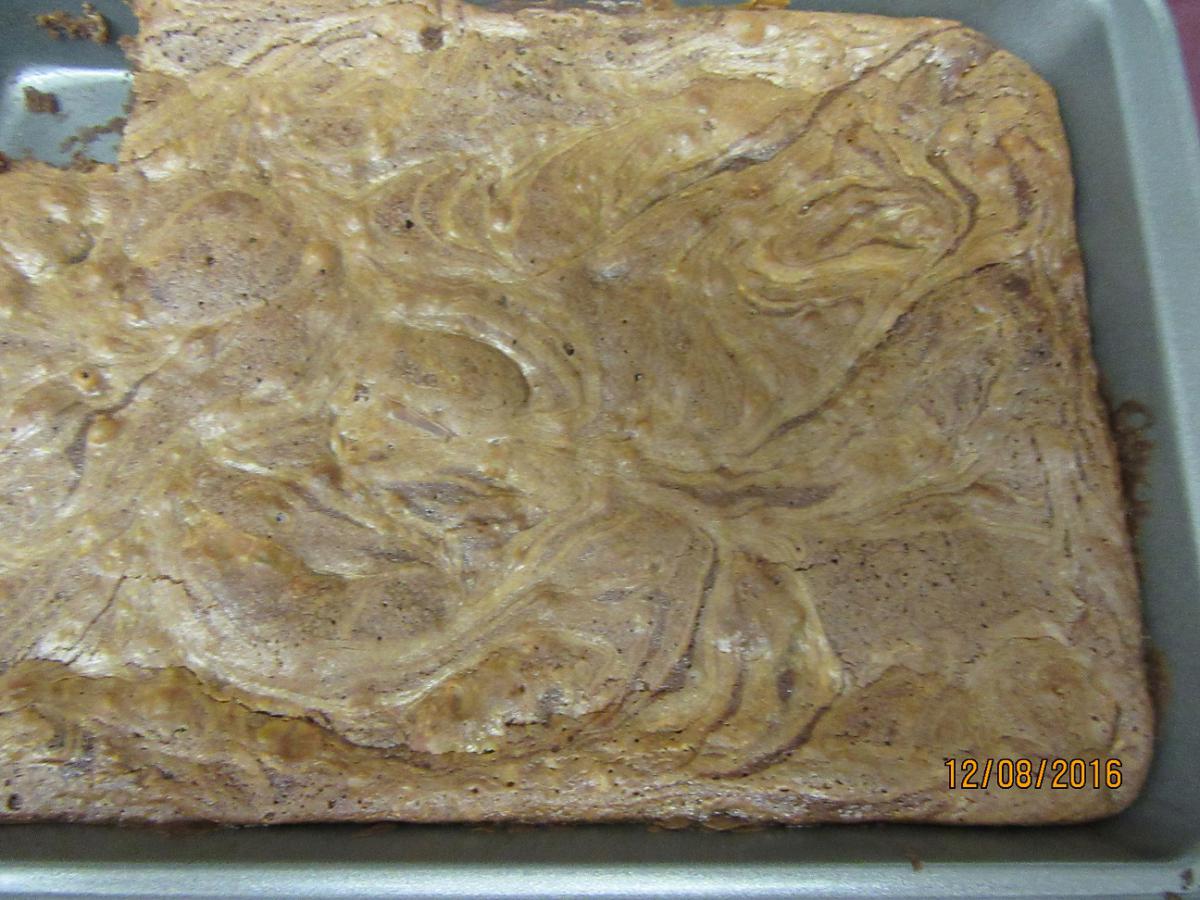 Caramel Brownies Recipe
I love to cook. My family can't possibly eat all of the sweets I whip up, so my co-workers are more than happy to sample them-particularly these rich, chewy brownies that are full of gooey caramel, chocolate chips and crunchy walnuts. –Clara Bakke, Coon Rapids, Minnesota
Total time: Prep 20 min. Bake 35 min. + cooling
Ingredients:
2 cups sugar
¾ cup baking cocoa
1 cup canola oil
4 large eggs
¼ cup 2% milk
1-1/2 cups all-purpose flour
1 teaspoon salt
1 teaspoon baking powder
1 cup (6 ounces) semisweet chocolate chips
1 cup chopped walnuts, divided
1 package (14 ounces) caramels
1 can (14 ounces) sweetened condensed milk
Directions:
In a large bowl, beat the sugar, cocoa, oil, eggs and milk. Combine the flour, salt and baking powder; gradually add to the egg mixture until well blended. Fold in chocolate chips and ½ cup walnuts.
Spoon two-thirds of the batter into a greased 13-in. x 9-in. baking pan. Bake at 350 degrees for 12 minutes.
Meanwhile, in a large saucepan, heat the caramels and condensed milk over low heat until caramels are melted. Pour over baked brownie layer. Sprinkle with remaining walnuts.
Drop remaining batter by teaspoons over caramel layer; carefully swirl brownie batter with a knife.
Bake for 35-40 minutes or until a toothpick inserted near the center comes out with moist crumbs (do not overbake). Cool on a wire rack. Yield: 2 dozen.
From Taste of Home