Jicama Guacamole

Image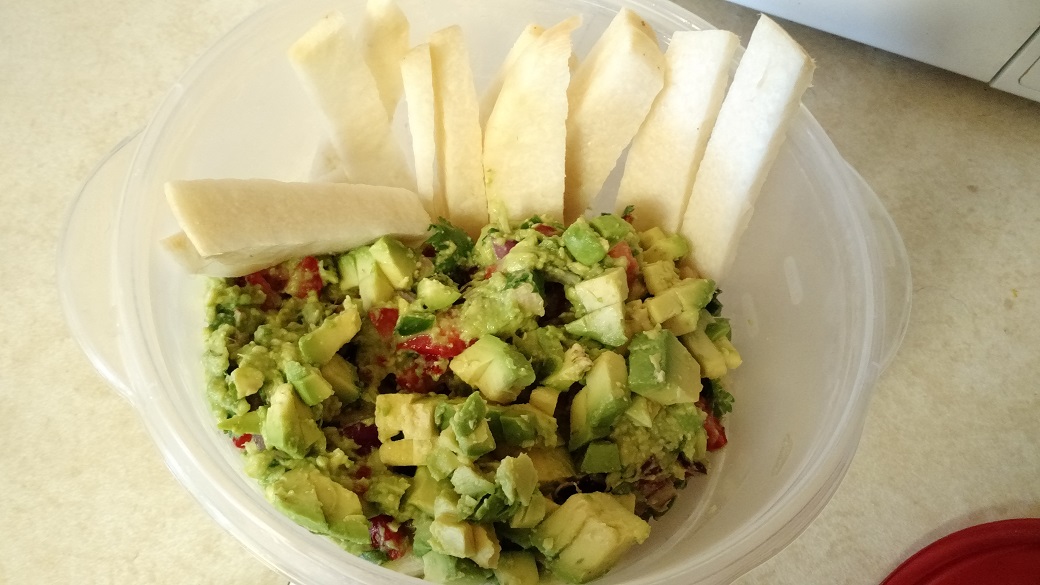 Jicama is generally eaten raw.  Can be added to  a veggie tray.  For a fresh appetizer, top slices of Jicama with a dollop of tuna or chicken salad, salsa or our jicama guacamole (below).  Add a cool crunch to salads, pizza, tacos or sandwiches by topping with grated jicama.  Can also add to soups and casseroles in same way would add other root vegetables. But the classic way to enjoy this fresh veggie is to squeeze lime juice over raw jicama slices and sprinkle them with chili powder and a pinch of salt.
PREP TIME: 25 MINUTES
TOTAL TIME: 25 MINUTES
SERVES: 12
INGREDIENTS:
-2 avocados
-1 tsp course sea salt, divided
-1/4 tsp garlic powder
-1 jalapeno chile pepper, seeded and minced
-1 cup finely chopped strawberries
-1/2 cup peeled and finely chopped jicama (1/4-inch cubes)
-1/3 cup minced red onion
-1/3 cup lightly-packed chopped fresh cilantro leaves
-Juice of 1 small lime
-Tortilla chips or crudites, such as jicama slices , for dipping
INSTRUCTIONS:
ONE:  Cut avocados in half and remove pits.  Use a spoon to scoop flesh from 3 halves; place in a medium bowl.  Peel remaining ½ avocado and finely chop flesh; set aside.  Sprinkle ½ tsp salt and garlic powder over avocado in bowl; mash with a fork.
TWO:  To bowl, add jalapeno, strawberries, jicama, onion and cilantro; gently fold to combine.  Add reserved diced avocado, lime juice and remaining ½ tsp salt; gently fold to incorporate.
THREE:  Serve with tortilla chips or crudites (such as raw jicama slices).
NUTRIENTS PER SERVING (1/4 CUP): Calories 63;
 Total Fat: 5 g; Sat Fat: 1 g; Monounsaturated Fat: 3 g;
Polyunsaturated Fat: 1 g; Carbs: 5 g; Fiber: 3 g;
Sugars: 1 g; Protein : 1 g; Sodium: 131 mg;
Cholesterol: 0 mg  
FROM: NOVEMBER/DECEMBER 2014 CLEAN EATING
Zucchini Bread
INGREDIENTS:
3 cups flour
1 tsp. salt
1 tsp. baking powder
1 tsp. baking soda
2 tsp. cinnamon
3 eggs
1 ¾ cup sugar
½ cup olive oil
½ cup applesauce
1 large zucchini, washed and shredded (2 cups)
2 tsp. vanilla
½ cup semi-sweet chocolate chips (optional)
INSTRUCTIONS:
 Preheat oven to 350*.
Sift together flour, salt, baking powder, baking soda, and cinnamon; set aside.
Beat eggs in large bowl; stir in sugar, oil, applesauce, zucchini, and vanilla.
 Add flour mixture, blending thoroughly.
Spoon batter into well-greased loaf pans.
Bake at 350* for about 50 minutes.
Let cool in pans 10 minutes before removing.
Makes two loaves.
SUBMITTED BY MICHELLE ZANDER