Image

High Protein Flourless Almond Muffins
Ingredients:
1 ½ cups raw almonds or almond meal
¼ cup almond milk
¼ cup maple syrup
6 egg whites
1 teaspoon vanilla extract
1 teaspoon ground cinnamon
½ teaspoon sea salt
¼ cup chia seeds
Directions: Preheat the oven to 375 degrees F and line muffin cups with paper liners. Grind the almonds in a food processor until they are finely ground like a flour or use store-bought almond meal. Whisk or beat together the almond milk, maple syrup, egg whites, vanilla, cinnamon, and salt. Add the ground almonds and chia. Stir until everything is combined. Pour the batter into  paper-lined muffin cups. Bake for 20 minutes or until golden brown.
Makes 12 regular muffins or 18 small muffins
Source: The Aztec Diet
Cherry Breakfast Crescents
Ingredients:
1 can (8 oz) Pillsbury refrigerated crescent dinner rolls
½ cup cherry pie filling
2/3 cup powdered sugar
¼ teaspoon vanilla
2 to 3 teaspoons milk
Directions
Heat oven to 350 degrees F. Spray cookie sheet with cooking spray. Separate dough into 8 triangles
With kitchen scissors cut cherries from pie filling into small pieces. Spread 1 tablespoon filling onto each triangle. Roll up, starting at shortest side of triangle, rolling to opposite point. Place point side down on cookie sheet; curve into crescent shape.
Bake 12 to 15 minutes or until golden brown. Remove from cookie sheet to cooling rack; cool 2 minutes.
Meanwhile, in small bowl, mix powdered sugar, vanilla and enough milk until smooth and desired drizzling consistency. Drizzle glaze evenly over crescents. Serve warm.
PER SERVING (1 roll): Calories 180; Total Fat 6g (Saturated Fat 2g); Sodium 230mg; Total Carbohydrate 29g (Dietary Fiber 0g); Protein 2g;
EXCHANGES: ½ Starch, ½ Fruit, 1 Other Carbohydrate, 1 Fat;
Carbohydrate Choices: 2
Source:  Pillsbury
Baked Banana Doughnuts
These baked, not fried, doughnuts are a banana twist on an old favorite. For variety, you can also sprinkle the finished dougnuts with cinnamon or roll them in confectioners' sugar. The more ambitious cook might consider a chocolate glaze to make them really special.
Makes about 15
Image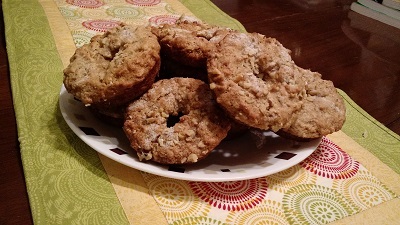 Ingredients:
2 tablespoons granulated sugar
2 tablespoons finely chopped walnuts
3 cups KELLOGG'S RICE KRISPIES
2 cups all-purpose flour
2 teaspoons baking powder
½ teaspoon baking soda
¼ teaspoon pumpkin pie spice
2 large egg whites
1 cup mashed very ripe bananas
1 cup firmly packed brown sugar
1 tablespoon canola oil
Directions:
Preheat oven to 400 degrees F
Lightly coat 2 baking sheets with nonstick cooking spray. Set aside.
Combine the granulated sugar and nuts in a small bowl. Set aside.
Combine RICE KRISPIES with the flour, baking powder, baking soda, and pumpkin pie spice in a mixing bowl. Set aside.
Combine the egg whites, bananas, brown sugar, and oil in the bowl of a standing electric mixer and beat to blend. Add the dry ingredients and beat on medium speed until incorporated.
Drop the dough, using a ¼-cup measure, onto the prepared baking sheets, forming each piece into a slightly flat, neat circle with a spatula. Using a small rubber spatula coated with nonstick cooking spray, create a 1-inch hole in the center of each circle.
Sprinkle each "doughnut" with some of the reserved sugar-nut mixture. Bake in the preheated oven for 10 minutes, or until lightly browned around the edges.
Remove from oven and transfer to wire racks to cool. Serve warm or at room temperature.
Source: "The Kellogg's Cookbook"
Apple Raisin French Toast Strata
Prep 20m
Cook: 45m
Ready In: 3h 15m
Recipe By: Terrie S.
Image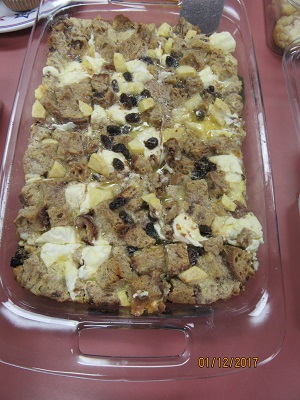 "A simple but elegant way to make breakfast fast. Put together the night before, and bake while you're in the shower. Serve with lots of extra maple syrup! You may also add extra raisins if you wish."
Ingredients:
1 (1 pound) loaf cinnamon raisin bread, cubed
1 (8 ounce) package cream cheese, diced
1 cup diced peeled apples
8 eggs
2 ½ cups half-and-half cream
6 tablespoons butter, melted
¼ cup maple syrup
Directions:
Coat a 9x13 baking dish with cooking spray. Arrange ½ of the cubed raisin bread in the bottom of the dish. Sprinkle the cream cheese evenly over the bread, and top with the apples. If you like extra raisins, add them now. Top with remaining bread.
In a large bowl, beat the eggs with the cream, butter, and maple syrup. Pour over the bread mixture. Cover with plastic wrap, and press down so that all bread pieces are soaked. Refrigerate at least 2 hours.
Preheat oven to 325 degrees F (165 degrees C).
Bake 45 minutes in the preheated oven. Let stand for 10 minutes before serving.
Source: "allrecipes.com"