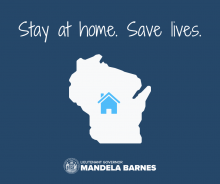 On May 13, 2020, the WI Supreme Court announced their ruling to overturn the Governor's Safer at Home order set to expire on 5/26 effective immediately. However, simultaneously, Dane County put into place their own order that continues the Governor's order through 5/26 as originally mandated.
That leaves Dane county libraries exactly where we were previously, with continuing with curbside/walk-up services through, at least, May 26th. However, we do not anticipate reopening on May 26th because ample sanitation measures will not be in place by then for public entry into library facilities. All of our library staff appreciate your patience as we negotiate critical sanitation issues before we reopen whenever that may be.
For any further questions call or email, Carolyn Shaffer at , 608-767-4905.
----------------------------------------------------------------------------------------------
The amended 'Safer at Home' order allows libraries to begin offering curb-side pickup of library items with certain restrictions. Black Earth Public Library will begin to offer Walk-Up Library Services starting May 4th.  If you are interested in picking up library materials, please follow these instructions.
The Black Earth Public Library will offer NO-CONTACT WALK-UP LIBRARY SERVICE beginning Monday, May 4, 2020. The library will remain closed.
Patrons MUST call the library in advance at 608-767-4905 and speak to a library staff member to schedule a ten-minute window appointment.
Pickup times are limited to:
M/W/F: 10am-noon
T/Th: 5-7pm
Sat: 12-2
Phone calls can be taken any time between 9-5 M/W/F or 9-7 T/Th, 10-2 Sat or leave a message to have your call returned.
There is no Delivery service between libraries yet. Patrons may request items via phone or LINKcat that are currently available on our shelves or Hold shelves. Curbside delivery of items is only available to those that are unable to walk-up.
Any returned items must be placed in the book drop, not left at the walk-up location.