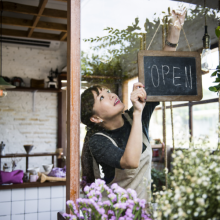 Libraries may look quiet on the outside, but we are as busy as ever on the inside. Although we are no longer functioning with limits from state Executive Orders, COVID-19 still is around. As we care about our library patrons and staff, we continue to take safety precautions. As we begin to re-open to the public, our plans and procedures are being informed by guidelines of Dane county, state, and national health organizations and by the availability of adequate safety and cleaning supplies for conducting business in a way that protects patrons and staff.
Starting, June 22nd, the Black Earth Public Library will be observing Phase Two of Forward Dane (which went into effect on 6/15).  Some restrictions will apply. 
Because the library is at its cleanest in the morning, individuals that are vulnerable to COVID-19 exposure will be able to make appointments to use the library.  By county order, we are allowed 50% capacity in the library at any one time, so we will be limiting occupancy of the library to 10. 
The libraries will be open to the public in afternoons and will be closing an hour earlier than regular hours each day for through cleaning.  Disinfecting high touch areas will also be performed throughout the day as well.  Public hours will also be limited to 10 individuals and some time restrictions may apply if people are waiting to enter.
All people in the libraries should observe social distancing of 6 ft, wash hands before and after entering, use hand sanitizer as needed and it is recommended to wear masks.
Black Earth Public Library Hours
Vulnerable individuals by appt M-F 10-1
No-Contact Walk-Up Library Service  Sat 10-1
Open to the public use of library - M-Th 1 - 6pm, Friday 1-4pm
If you have questions call 608-767-4905
Library clients should be aware that the inter-library delivery and requests of other libraries' materials is still not fully operational, but progress is being made weekly to add delivery runs and libraries' abilities to fill requests.  However, it should be noted that both items in transit, as well as upon return, will be placed in a 72-hour quarantine to prevent spread of possible contaminants.  Library records will not be updated immediately due to this delay in quarantine.  Any reserved items received in delivery will generate phone or email notifications as previously, however, due to now having available open hours, it will be assumed that if clients wish to make appointments to pick up materials, they will call us and we will no longer follow up with phone calls to make appointments.
We love our library people, can't wait to see you and hope for all to stay healthy!